Maui Photographer
One of the most amazing things about being a Maui photographer is that this island has the most breathtaking scenery for the backdrop of your session. Perhaps this trip to Maui is a once-in-a-lifetime vacation for your family or this is your annual vacation, either way, imagine your family's precious moments captured with the island's beauty behind you.  Maui has a variety of different beaches, fairyland forests, cascading waterfalls, lush green mountains & beautiful coastal cliff-sides. As your Maui photographer, I will work with you to find the perfect location for you and your loved ones!
Not traveling to Maui- not to worry as I book all Hawaiian islands- just inquire about packages that include travel.
"Let me capture you... all of you, your precious moments with the person you want to spend the rest of your life with & those sweet, beautiful, messy moments you share as a growing family."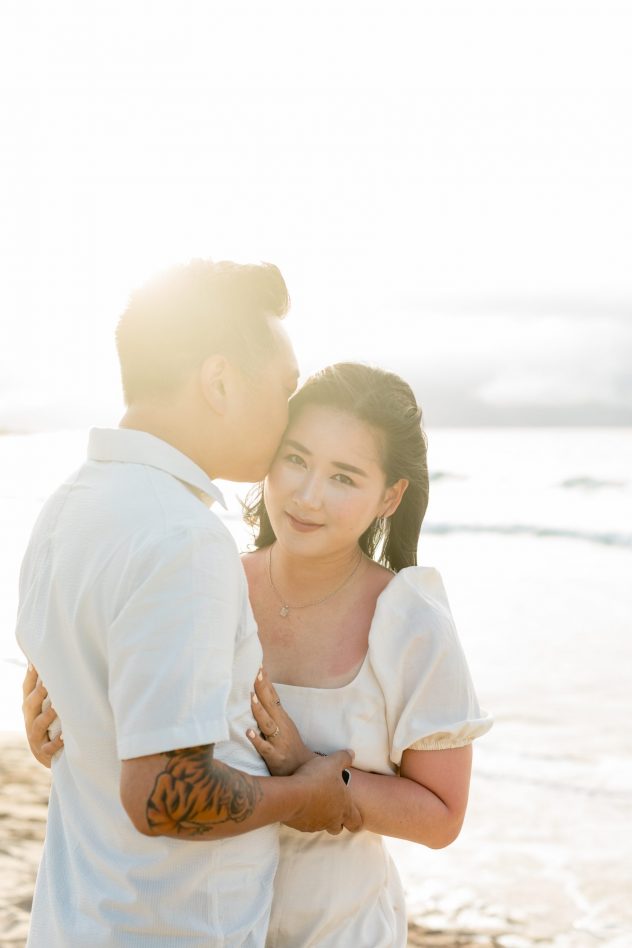 KIND WORDS
"Jessie took our maternity photos and I am absolutely in love with them. On the day of our shoot, I was a little nervous, as this is my first pregnancy and I'm feeling somewhat out of sorts with my body. Jessie made us feel completely comfortable and captured the most beautiful, natural, and organic moments. Her location suggestion was spot on and I also LOVE her tasteful and classic editing style. We look so much more relaxed than I actually felt and the final outcome was honestly 100x better than I could have imagined...way too many favorites to count."
- Karley
KIND WORDS
"Enough cannot be said about not only Jessie but the photos that she is able to capture. Jessie made us so comfortable in front of the camera and the photos she captured were stunning. Her turnaround for the photos was earlier than she had promised and there is not one that we are disappointed with. We highly recommend Sun & Sea Photography for your photography needs while visiting the islands! She's a MUST!"
- Jeff & Brittney
KIND WORDS
"Jessie extremely talented and she did a fabulous job with our family photos! I would wholeheartedly recommend her... We are delighted with the way she captured three generations of family members and enabled us to have precious keepsake pictures/memories for years to come. Jessie has a lovely disposition and a wonderful eye, which enables her to capture people at their finest and make the most of every background. Jessie also knows Maui very well and we were overjoyed with the stunning location she recommended for our photoshoot."
- Cindy
KIND WORDS
"Jessie was an amazing photographer! My fiancé and I were vacationing in Maui and had just gotten engaged! Our friend connected us to Jessie and she rearranged her schedule to fit us in for a session. She made us both feel so comfortable and captured our true feelings and connection through our amazing photos! I couldn't be happier and will save these photos for forever "
- Molly & Josh
KIND WORDS
"Our family/maternity photoshoot with Jessie was nothing short of amazing!!!!! She is an excellent communicator and was patient with our toddler and went above and beyond to help with him during the shoot, too. She did poses with us but also let us just be "us". We felt comfortable and laughed together, and the next day my husband even thanked me for setting up the shoot. We ended up with the MOST stunning photos and they captured our little family PERFECTLY."
- Dayne & Jamie
KIND WORDS
"We've honestly had a lot of professional photos taken of our family. These photos we've received back from Jessie are by far the best anyone has ever captured of us. Jessie was incredible to work with. Shooting two kids is no easy feat and she did it grace and ease. She was patient and encouraging and made us feel extremely comfortable. We'll be using her to capture every major event of our family's lives from here on out. Thank you Jessie!! "
- Andrew